DUAL TRACK INLINE AOI EKT-VL-920
One camera moves in the XY direction, and the front and rear two sets of tracks transmit PCB respectively.
The first track bar is fixed, and the second, third and fourth track bar can be adjusted.
Dual track production lines for various SMT(1 track bar fixed / 1, 3 track bar fixed / 1, 4 track bar fixed)。
Fully compatible with the functions of single track online AOI 8 series.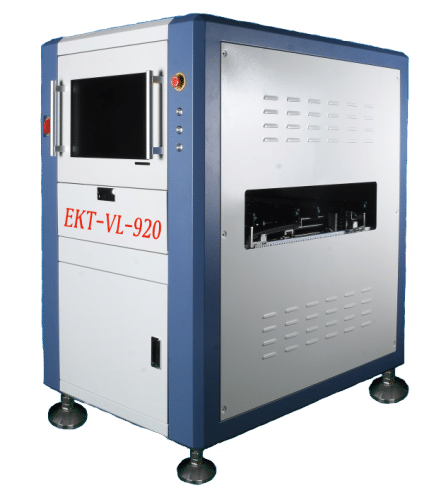 Specifications: EKT-VL-920
Application
After stencil printing, pre/post reflow oven, pre/post wave soldering, FPC etc.
Inspection system
Program mode
Manual programming, auto programming, CAD data importing, dual track independent programming.
Inspection Items
Stencil printing: Solder unavailability, insufficient or excessive solder, solder misalignment, bridging, stain, scratch etc.
Component defect: missing or excessive component, misalignment, uneven, edging, opposite mounting, wrong or bad component etc.
Soldering defect: excessive or missing solder, empty soldering, bridging, solder ball, IC NG ,copper stain etc.
Calculation Method
Machine learning, color calculation, color extraction, gray scale operation, image contrast, OCV/OCR etc.
Inspection mode
PCB fully covered, with array and bad marking function, one set of motion and imaging mechanism, dual track time-sharing independent inspection, can operate on a single track mode.
SPC statistics function
Fully record the test data and make analysis, with high flexibility to check production and quality status
Component Angle
Support 0 ~ 359 ° rotation, with a minimum angle distance of 1 °
Minimum component
01005 chip, 0.3 pitch IC
Camera
Full color high speed industrial digital camera , 5 million pix/12 million pix/ 20 million pix camera are optional.
Optical system
Lens resolution
10um/15um/18um/20um/25um, can be customized
lighting source
Annular stereo multi-channel color light, RGB/RGBW/RGBR/RWBR base on demand, optional top axial light.
OS
Windows10, 64bit
Computer system
Monitor
22 inch,16:10
VGA
Build in graphic card, (discrete graphic optional)
CPU
Intel E3 or same level
GPU
Optional
RAM
16GB
HDD
1TB , (SSD optional)
Language
Chinese and English
Software
Access right control
Administrator, programmer and operator three-level login permission control
Moving and inspection mode
The front and rear tracks are adjusted independently. The two tracks enter and exit the board independently and automatically, with optional L-R / R-L direction. the stepping motor transports the PCB and adjust track width, and the XY servo motor drives the camera to take pictures.
Mechanical system
Track adjustment
The front and rear guide rails are independently and automatically adjusted to support different rail widths
PCB fixed mode
Automatic fixture
PCB dimension
50*50mm(Min)~460*360mm(Max) when dual rails,50*50mm(Min)~460*6500mm(Max) when single rail, can be customized
PCB thickness
0.3~5.0mm
PCB weight
Max:3KG
PCB edge
3mm,can be custom-made base on need
PCB bending
<5mm or 3% of PCB Diagonal length
PCB component height
Top:35mm,Bottom:30mm , adjustable, can be customized base on need
XY driving system
AC servo motor, precise ball screw
XY moving speed
Max:830mm/s
XY positioning accuracy
≦8um
Machine dimension
L1440 * W100 * H1620 mm
General parameters
Power
AC220V,50/60Hz,1.5KW
PCB height from ground
900±20mm
Machine weight
700KG
Communication with production line device
Smema
Air pressure
0.4 – 0.8 MPa, optional electric control to instead air pressure requirements
Safety standard
CE safety standard
Environment temperature and humidity
10~35℃,35~80% RH (un- condensing)
Optional
Maintenance station, offline programming system, SPC servo, bar code system, MES connection.
Optional
Specifications: EKT-VL-920
DUAL TRACK INLINE AOI EKT-VL-920;High-precision appearance quality AOI testing equipment, welcome to call and communicate to see the factory